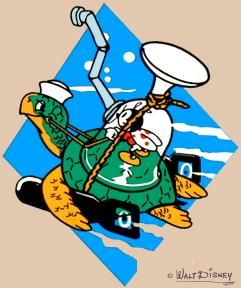 Pictures
In 1944, the late Walt Disney drew this cartoon as a tribute and a caricature of the original USS Hawkbill SS-366 which was a diesel submarine of the World War II era. As time passed, the first USS Hawkbill was decommissioned, and the current USS Hawkbill SSN-666 was built. The original cartoon signed by Mr. Disney has been passed along over the years and is now kept on board the USS Hawkbill SSN-666 as a lighthearted symbol of the ship.
---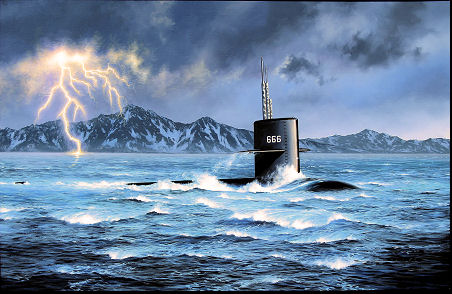 Original Painting of Hawkbill
Famous aviation artist, Stan Stokes (www.stanstokes.net), was commissioned to paint this picture of Hawkbill surfacing in the stormy Sea of Japan. Giclee Canvas and photo-based paper prints are available from Stan.
---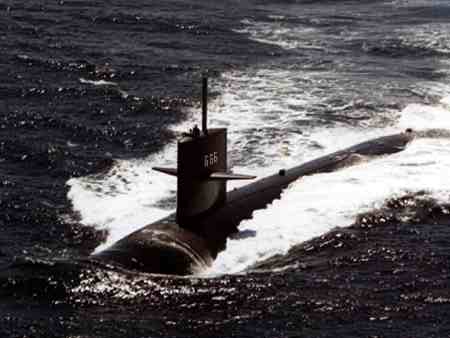 USS Hawkbill Underway
VITAL STATISTICS

Built by Mare Island
Keel laid:       Sept. 12 1966
Launched:        April 12, 1969
Commissioned:    February 4, 1971
Decommissioning: 1999
Length:          292 feet
Beam:            32 feet
Displacement:    4060 tons
Crew:            120

---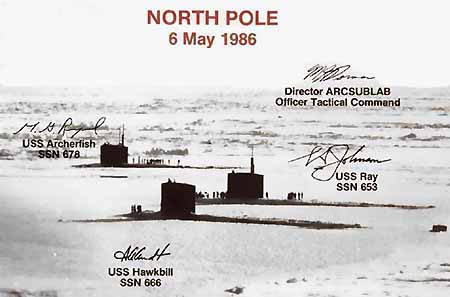 Navy release photo - given to each crew member of each ship
---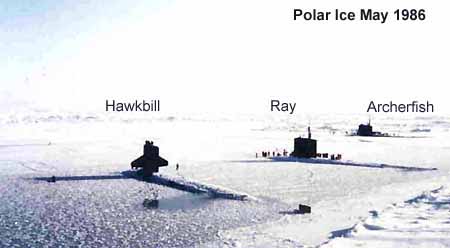 Aerial shot published in Proceedings.
---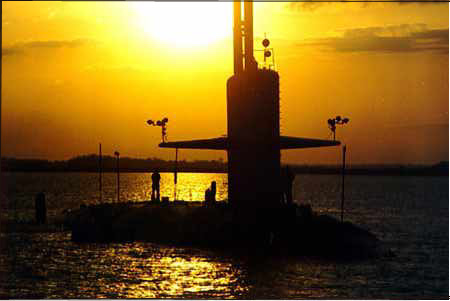 Dawn in Darwin, Australia in the fall of 1996
---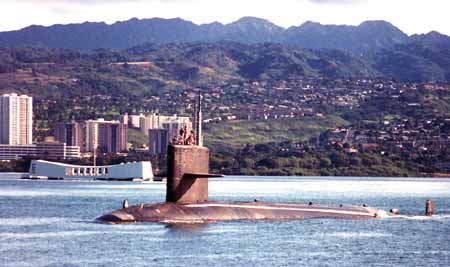 Cruising in front of the Arizona Memorial, Pearl Harbor
---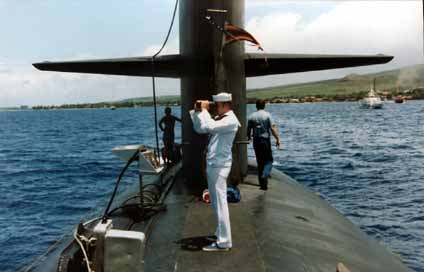 Girl Watching in LaHaina 1982
Photographed during a dependent's cruise.

---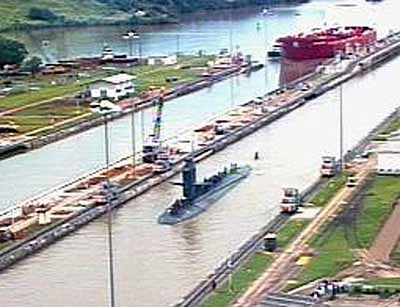 Panama Canal
Passing throught the Panama Canal after a SCICEX expedition.

---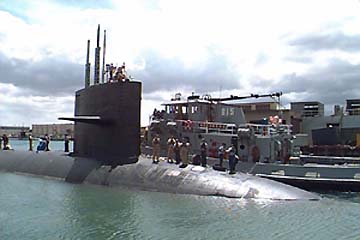 Pearl Harbor June 1, 1998 before SCICEX (Scientific Ice Expedition)
The SCICEX program, created in 1994, resulted in a memorandum of agreement signed between the navy and various scientific agencies calling for annual expeditions to the Arctic. Expeditions to accumulate one of the most important and diverse sets of arctic environmental data ever collected. Hawkbill will continue this program with the last two SCICEXs by surveying the arctic this summer and again in the spring of 1999.
---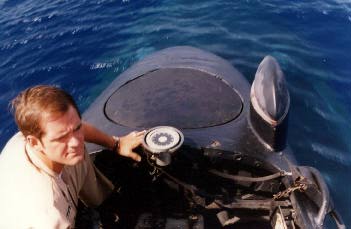 The Submariner
Only a submariner realizes to what great extent an entire ship depends on him as an individual. To a landsman this is not understandable, and sometimes it is even difficult for us to comprehend, but it is so!
A submarine at sea is a different world in herself, and in consideration of the protracted and distant operations of submarines, the Navy must place responsibility and trust in the hands of those who take such ships to sea.
In each submarine there are men who, in the hour of emergency or peril at sea, can turn to each other. These men are ultimately responsible to themselves and each to the other for all aspects of operation of their submarine. They are the crew. They are the ship.
This is perhaps the most difficult and demanding assignment in the Navy. There is not an instant during his tour as a submariner that he can escape the grasp of responsibility. His privileges in view of his obligation are almost ludicrously small, nevertheless, it is the spur which has given the Navy its greatest mariners--the men of the Submarine Service.
It is a duty which most richly deserves the proud and time-honored title of...Submariner.