USS Hawkbill SSN-666 Decommissioning Ceremony
(the last Sturgeon)
---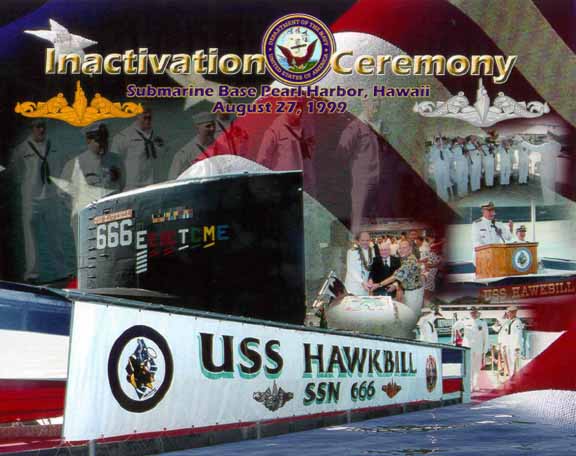 ---
The following "thumbnail" pictures were taken during the inactivation ceremony in August 1999. If you 'click' on the picture, a full size picture will be displayed.

Use your browers "BACK" button to return to this page after viewing the larger image.


1

2

3

4

5

6

7

8

9
---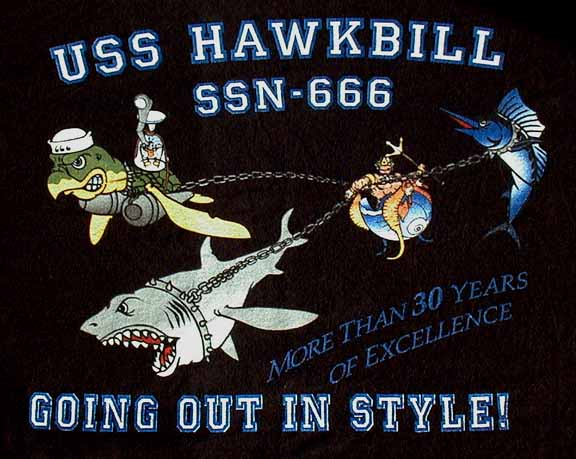 Dear Commander Perry:

On behalf of the Department of the Navy, I thank all who have ever served aboard USS Hawkbill (SSN 666) for your service, professionalism, and devotion to Country.

HAWKBILL and her crew have played a vital rose during twenty-eight years which witnessed the end of the Cold War and victory in the Gulf War. HAWKBILL's contributions during this crucial time confirm that our investment in her has been rewarded beyond all expectation. During a career that has included deployments to Vietnam, the Western Pacific and the Arctic, HAWKBILL has demonstrated the Navy's ability to project our vital interests far from our shores. Taking an effective part in Arctic operations, HAWKBILL has amply displayed her versatility and skill.

One Navy Unit Commendation, One Meritorious Unit Commendation, and four Navy "E" Ribbons are evidence o the professionalism of all who have served in this proud ship.

Now that USS HAWKBILL's tour of active duty is at an end, those who have served aboard can look back with pride on their many significant contributions to our Nation's defense. Your tradition of leadership, operational performance, and service to America have contributed to a lasting peace. Thank you for a job "well done!"




A MESSAGE FOR THE SAILORS OF
USS HAWKBILL (SSN 666)


As you prepare to decommission USS HAWKBILL, I congratulate current and former crew members on your historic contributions to our nation's security. While it is always difficult to bid farewell to an old friend, each of you should take great pride in HAWKBILL's accomplishments throughout an extremely distinguished career.

For nearly three decades, HAWKBILL and her crews served our country superbly, Always prepared to defend our nation's interests, HAWKBILL played important roles in operations in the Arctic; in readiness exercises with other navies in the Western Pacific; in testing Tomahawk for submarine use; and in special CNO projects. She exemplified forward presence and naval professionalism during a turbulent era in our history, and served as a powerful deterrent to any state that might have considered testing our nation's resolve.

HAWKBILL's well-earned reputation is one of superior performance and operational excellence. Her sterling operational performance earned HAWKBILL numerous honors, including a Navy Unit Commendation, a Meritorious Unit Commendation, and four Navy "E" Ribbons.

Today's ceremony does not end the legacy of USS HAWKBILL, Your ship will live on in the memories of all who served aboard her and in the hearts of freedom- loving people around the world, Well done!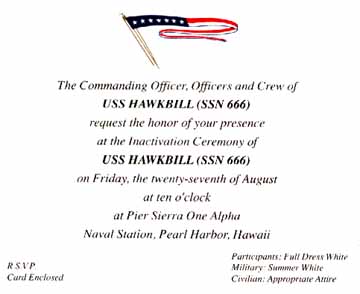 Five Men And Two Wives From The SS 366 Attend The Inactivation Ceremony Of The SSN 666 At The Pearl Harbor Submarine Base
---

At 10:00 Hours, August 27th, 1999, Capt. F. Worth and Dorothy Scanland, Walter "Doc" and Syble Rohre, Walter Rohde, Bennie Compton, and Ellis Augsburger shared a very memorable experience. (C0) Commander Robert Perry and the men of the 666, Rear Admiral Albert H. Konetzni, Jr., Commander Submarine Forces Pacific Fleet, and Dr. John J. Hamre, Deputy Secretary Of Defense, really gave us a royal welcome, they made us feel like real heroes. It was a great feeling to be a part of this very special Ceremony, this was a special occasion that none of us will ever forget.

Immediately following the Ceremony, there was a reception nearby, with food, drink, dessert, and a lot of socializing and sea stories. We did get to spend some time with Scott Clark and his new bride Dina, I believe this trip was part of their honeymoon. Scott served on the 666, 1982 - 1985, and is the son of Dick Clark, Webmaster for the Hawkbill/Hawkbill Web sites. Chief Gary Olivi (COB) of the 666, read the story of our sinking of the Hatsutaka, and the Captains nakedness during this activity. Captain Scanland was presented a plaque by 666 CO Robert Perry and was invited to speak to the audience. The Captain, in his opening remarks, promised not to unclothe himself, and received a lot of laughter and applause. The entire audience listened attentively as he spoke of past experiences and what he hoped to see in the future. The Captain ended his talk by suggesting that the Navy should build another Hawkbill, everyone present agreed with that suggestion.

The afternoon prior to the Ceremony, Compton, Rhode, and Augsburger, visited The Arizona Memorial, The Lost Submarines Memorial, The Bowfin, and the Submarine Museum. While visiting the Museum, we met Capt. Scanland and Dorothy, they were there to pick up the US Flag that had been flown at the Decommissioning of the 366. The Captain had previously donated the flag to the Museum, and returned to borrow the flag for use at the Ceremony for the 666. On our return to our hotel, we stopped at the 666, met many of the officers and crew, and received a royal tour of the boat.

Following the 666 Ceremony and Reception, we found the USS Cheyenne, although now 3 years old it is the newest boat in the Pacific Fleet. We were warmly welcomed by the OD, and he appointed one of his best men to give us a tour of the boat. Very interesting, similar in many ways to the 666, but somewhat larger. Carries a crew of 135 to 140 officers and men.

The morning following the Ceremony, we returned to the 666 for coffee, fruit and pastries in the galley, with CDR Perry and other officers and crew, and one previous CO of the 666. Of course we had many questions, and received answers to things that are not classified information. Walt Rohde fortunately had a flexible schedule for his trip back home, he asked for permission to sail with the 666 from Pearl to San Diego, they were sailing the following Wednesday. Permission was granted and he made the 6 day trip on the boat. He says that it was a fantastic experience. Walt became kind of a celebrity in his hometown of Elmira, NY, one of the writers of the local newspaper wrote a nice story of Walt's experience. Walt sent me a copy of that article, it was a nice write-up.

Respectfully Submitted, Ellis "Augie" Augsburger, SS-366
December 10, 1999


USS Hawkbill (SSN 666) decommissioned!
By Puget Sound Naval Shipyard Public Affairs


BREMERTON, Wash. -- In a quiet ceremony conducted alongside Puget Sound Naval Shipyard dry dock 1, USS Hawkbill (SSN 666) was decommissioned March 15.

While most of Hawkbill's remaining crewmembers stood in formation opposite the brow, the ceremonial watch members stood at parade rest topside awaiting the command to "Lower the colors, strike the commissioning pennant."

Rear Admiral George E. Voelker, Submarine Group 9 commander, was the principal speaker. He praised the men and women of Puget Sound Naval Shipyard. "You have accomplished the inactivation of Hawkbill in a safe and highly efficient fashion," Voelker said. "I appreciate your efforts to bring this phase in the life of Hawkbill to a successful close."

Voelker then addressed the accomplishments of Hawkbill and her many crewmembers. "USS Hawkbill and those who have manned her have served their country exceedingly well for the past 29 years," he said. "Her departure will leave an empty place in the hearts of all those who sailed in her and with her. For you see, the ship you see before you is the last of the standard models of the first truly modern class of nuclear attack submarines -- the Sturgeon class."

"These ships were the real workhorses of the Cold War and played a significant role in our country's eventual victory in that potentially devastating conflict." said Voelker.

Voelker continued, "She and her magnificent crews deployed to the Western Pacific ten, that's right, ten times in addition to countless days underway in home waters and five deployments under the ice or to the Northern Pacific. If this warship could talk, she would have stories that would speak volumes about the unparalleled professionalism and selfless dedication of her officers and men."

In a naval message, Rear Adm. Al Konetzni, Submarine Force Pacific commander, said, "It wasn't until the last expedition [SCIEX 1999] when the Hawkbill finally gained broad public recognition surrounding her heroic and sometimes harrowing service. For nearly her entire career and those of her sister ships, these workhorses of the Cold War were asked to stay out-of-sight and out-of-mind. This last deployment, while not in direct support of military objectives, afforded the public a tiny glimpse of how this entire class of warships routinely achieved the impossible."

In a letter to Hawkbill commanding officer Cmdr. Robert H. Perry, Secretary of the Navy Richard Danzig had kind words about the last Sturgeon-class sub. "During a career that has included deployments to Vietnam, the Western Pacific and the Arctic, Hawkbill has demonstrated the Navy's ability to project our vital interests far from our shores," Danzig said. "Now that USS Hawkbill's tour of active duty is at an end, those who have served aboard can look back with pride on their many significant contributions to our nation's defense."

Perry was presented the Legion of Merit during the ceremony. "For 29 years, the crews that manned Hawkbill have served our country well, earning many awards and accolades while defending our freedom and way of life," said Perry, the last to speak. "I have been privileged to serve as captain for almost three years. I cannot think of a better job in the world."

The colors were lowered, the commissioning pennant struck and presented to Perry. In the ensuing silence, the commanding officer gave the last order, "Executive Officer, secure the watch."

And another chapter in naval history closed.

March, 2000


Hawkbill's last cruise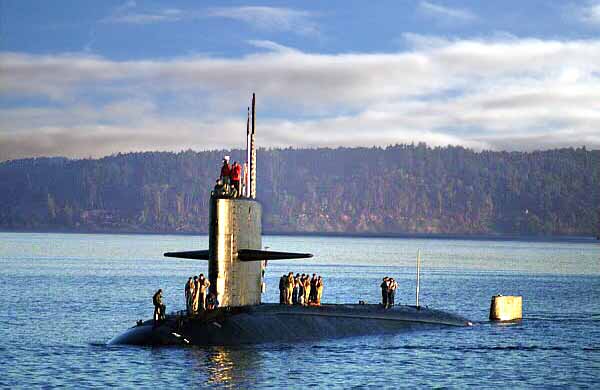 Hawkbill arrives at Puget Sound Naval Shipyard for decommissioning and scrapping.